HISTORY & PHILOSOPHY
HISTORY & PHILOSOPHY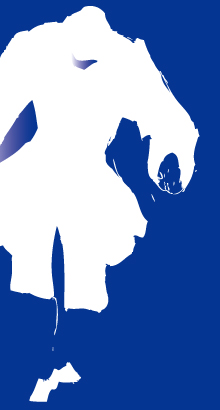 "Why theatre, now? What is the role of theatre in this day and age, in this society we live in?"
It was with such queries that Tokyo Theatre Company KAZE was founded in 1987.
Since then, KAZE has gone on to put on plays in Tokyo centered around the works of Russian writer Anton Chekhov and one of the great playwrights of the 20th century, exiled German playwright Bertolt Brecht. At the same time, in keeping with its belief that "theatre is not only a place for relating the 'truth' but also a place where one can criticize 'society' and 'reality,' a place that offers a feeling of freedom," KAZE has been actively involved in touring the country for young audiences since its founding.
In 1999, KAZE built its own base theatre, "Repertory Theatre KAZE," where it puts on 8-10 new and repertory works a year.
Since 2003, KAZE has been hosting the "Biennial KAZE International Theatre Festival." To this day, KAZE continues to engage in multinational exchanges and co-productions with artists and theatre people from France, Romania, Poland, Germany, Moldova, and other (mostly European) countries.
KAZE's most significant activities include the performing of original works by exiled writer Matei Visniec (born in Romania, residing in Paris)--"Jeanne et le feu" and "Nina ou De la fragilite des mouettes empaillees"--and the addition to its repertoire of a Brecht work, "Der Bettler oder der tote Hund," an innovative production directed by Yoshinari Asano featuring French actor Olivier Comte and Ioana Craciunescu (a Romanian actress residing in Paris) that was performed on invitation at the Sibiu International Theatre Festival (one of the three major theatre festivals in the world).
Moreover, the group's collaboration with Republic of Moldova's Petru Vutcarau (Artistic Director and Director, Teatrul Eugene Ionesco) and the Ionesco Theatre proved to be extremely fruitful, as "Hamlet," directed by Petru, has come to be called one of KAZE's most significant works. In addition, preparations are now under way to bring "Jeanne d'Arc Iona si focul"--which was first performed in August 2009--to the stage in 2011.
In recent years, KAZE has also been invited to participate in overseas festivals with increasing frequency. In 2007, Yumiko Tsuji participated in the "2nd Gala Star International Theatre Festival" and took the Grand Prize. In 2008, KAZE was invited to perform "L'HISTOIRE DES OURS PANDAS racontee par un saxophoniste qui a une petite amie a Frankfort," (written by Matei Visniec and directed by Fuminari Nagumo, one the group's younger members who joined KAZE in 2007) at the Bitei Theatre Festival and Sibiu Theatre Festival, and with actor Shigeru Nakamura (a KAZE member since 2005) as chairperson, a team of actors and staff from KAZE went on to successfully complete a long run of 20 performances at the Avignon Theatre Festival.
Furthermore, in summer 2009, the 4th Biennial KAZE International Theatre Festival was held under the banner, "Contradiction, Language, Resistance, and Hope," and KAZE put on four works--including two new works--by Matei Visniec.
Now, Tokyo Theatre Company KAZE continues its theatre of exploration. Rather than simply "practicing new theatre," what KAZE is doing is an exploration of "theatre for new practices in theatre and the present age"--i.e., our society and the people who make up society.
---